Mesh had this to say about carrying the brand Deluxe: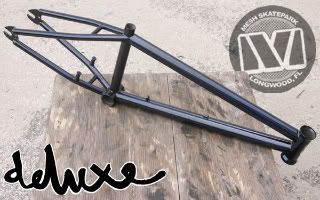 If you don't know anything about Deluxe bmx you need to.  Deluxe is a new company devoted to trails and the trails lifestyle.  Their frames look amazing; slim, light, trails style.  The frames are well thought out, catering to the person who wants a stable, light frame for riding trails and skatepark.  Deluxe supports real riders who love to ride, not nessicarily the riders who want to be in the spotlight.  It really is a company in it for the right reasons.
Mesh has the new Deluxe frame in stock in every size and color including the limited green with v-brake mounts.  What's cool is… your local skate park(mesh)  is the only place that you can get the limited green frame from.  If you are reading this and mesh is not your local park give us a call 407-657-2002, we can ship to anywhere inside of the unites states.
regular u-brake frame retails for $299.95 and the limited with v-brake mounts is $329.95