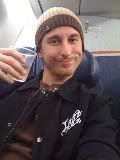 Hello! Been a while since I've gotten a chance to type anything up in the form of news. Mostly being because of a serious/nagging injury.  Since my front flip double barspin stuff last fall I have had some back issues. Most recently (starting in about January) they got pretty bad. I had an MRI done in February and turns out I have two herniated discs. L4/L5 and L5/S1 for those of you who know anything about back stuff. So that has kept me off my bike for the most part as well as away from my desktop computer as it sucks to sit down for too long. I've ridden a few times but mostly for a show here and there. Currently trying my best to avoid having to have any type of surgery. I have tried quite a bit and am open to any suggestions anyone out there reading this has to offer. Back issues are complicated and there is really no one cure for it. Each person responds differently to each treatment. So I'm all ears!! Danbmx63@gmail.com… hit me up!
On a good note… I flew to Chicago to do a halftime for the Bulls last month and that was pretty fun. I hadn't touched my bike in a few weeks, the ramp was super tiny and new (never ridden it and it was a 3 foot wide, 4 foot tall lip, no deck, and a 6 foot wide wedge landing straight to the ground) So we set the ramp up and there was nowhere to ride it in order to get used to it. So my first jump on this ramp and my first time riding in weeks was on the court in front of 22,000 people or so. It was nerve racking needless to say. Took me a jump or two to get used to it then I was fine. Rob Nolli was there to pick up my slack and he certainly did just that. 360 whips and decades like they were easy as can be. I was very impressed. Anyway… fun times in downtown Chicago that weekend. The best part of this trip is on my flight back I had stayed up the whole night before (flight was at 5:30, with daylight savings changing that night as well) and I was pretty out of it. I've always enjoyed being the last person on the plane during the boarding process. And I've often wondered what would happen if I just sat down in a vacant first class seat. Never had the guts to try it… but due to my state of mind I decided to go for it and see what happened. The worst they would do, I'd imagine, is tell you to go back to your regular seat. No big deal right? Well I went for it and was a little nervous. Especially when the flight attendant came up to me and asked me a question. But instead of "are you sure you're supposed to be here?" It was a "can I get you any thing to drink sir?" Well actually… you certainly can. Ha! My first stolen first class seat was a success. I continued to have free drinks the entire flight and continue my "night" even though it was 6 in the morning. Same went with my second connection in Philadelphia… last one on the plane and straight to an vacant first class seat. This time I got a little bit of a hassle as the flight attendant only had 6 people scheduled to be in first class. I told her I must have dropped my ticket and she said she'd "check into it." I quickly dozed off out of necessity and that was the end of it. She never said anything else to me. All in all it was something I've always thought about trying and it actually worked out. I don't know if I should recommend it to anyone… but hey, if you're feeling it… go for it! Just make sure you're the last person on the plane so there won't be someone behind you saying "hey man that's my seat."
After that I took the whole week off because of my nagging back and then went to Mississippi for a couple of mall demos. Nothing too crazy there, they were actually really fun and a lot less stressful than the NBA stuff simply because I had ridden this ramp set up before. Laird hit the ceiling on a flair and I felt like I rode ok considering my condition. Got home from that trip and haven't touched my bike since (about a month or so ago) Which sucks because it has been 70's and sunny every single day here in Greenville. So amazing out. I've since moved into a new house here, closer to the skatepark and all in all a better place. But that's not really news that anyone cares about. haha. More room for guests though! JomoPro is going on right now and I'm incredibly bummed on missing out on that. Wishing all those guys the best of luck though! Anyway… I'm off to ice my back. Don't forget to email me if you have any personal stories with back issues and/or advice. Thanks!!
Oh… p.s. The  photo of the orangeish bags on the cart… That's the ramp set up that they mail to the basketball stadium for the show. That is the ENTIRE ramp. Wild. The other ones with the drinks… is my first class experience. The others are pretty self explanatory. Word up!